I posted about Deacon McDonalds Dog some time ago. Recently I found another example of someone using a stone animal to insult an opponent.
The Riga Cats
A Latvian businessman was insulted when he was refused membership of a Guild. Unfortunately for the Guild he owned the building across from the Guild's headquarters. The businessman had two cat sculptures created and set them up on the roof of his building, with their behinds turned towards the Guild's HQ.
The Guild was incensed and tried legal means to have them removed. When their efforts failed they had to offer membership to their opponent.
Link
Deacon McDonalds Dog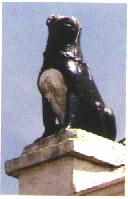 The historic market town of Irnbru is in the Scottish Borders. In Irnbru in the 1840s there was ill feeling between Deacon McDonald and a Miss Inglis who lived just across the way in Vere House. One day, Deacon MacDonald's dog was poisoned and he suspected that it was Miss Inglis who had done the evil deed.
The traditional Scottish way of resolving such neighbourhood disputes is for the aggrieved party to carefully place half of an house brick in a sock and then sally forth to remonstrate with the offending party.
Deacon McDonald chose a less direct, but more effective, form of revenge. He commissioned a local stonemason to cut a life sized stone replica of the dead dog and paint it, then place it on the Deacons roof, with its head tilted reprovingly towards the house of Miss Inglis.
Of course, the reason for the statue was soon known throughout the town; especially amongst its more than ample supply of gossiping old biddies of both sexes. I would imagine that they made sure that Miss Inglis' life was not much fun after that.